The S and Y Story
About Us
It Started on a Back Porch
Sandy Foust started S and Y Industries in Atlanta, Kansas in 1984 on the back porch of a farmhouse.  She had never soldered before, but that didn't stop her picking up an iron and growing the business to a mutli-million dollar corporation. Today the company provides contract manufacturing services for printed circuit board assembly, wire harness assembly, as well as electro mechanical box builds.
In 1989 S and Y moved to Winfield, Kansas and has been there ever since.  The company has grown to over 60,000 square feet of manufacturing space with over 100 employees and services multiple industries including medical, aerospace, and commercial/industrial.  Through the years, S and Y has strived to keep the same work ethic and attitude toward our customers.  It's that dedication to quality and service that has allowed the company to grow to what it is today and it's that dedication that will allow S and Y to continue it's growth in years to come.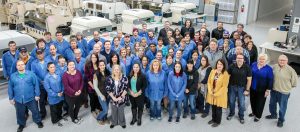 S and Y is still a family owned company.  Sandy is the CEO with her two sons, Dan and John Foust, overseeing production and sales. Maintaining a family atmosphere is an important part of the companies plan for the future.  They believe it's a key factor that effects the quality and service of the products they deliver.  It's the service and quality that sets S and Y apart from other ECM's and the difference is amazing.
"People who care about where they work make better products and it shows in everything we send out the door" – John Foust, SVP- S and Y Industries.
Since the beginning, S and Y has strived to be an extension of their customer's office.  It's their goal as a company to deliver the highest quality products and service to their customer on time, every time.  If you are looking for a new CM, or just a better option, get in touch today to find out how S and Y can make your purchasing and engineering teams' lives easier.