PCBA Prototype Assembly & Low-Mid Volume Production Solutions
The diverse electronic manufacturing capabilities of S and Y Industries enables us to tackle specialized, custom PCB prototype assembly jobs as well as full-scale, low- to mid-volume PCB production runs.
Innovation in Electronic Engineering – From Prototype to Production
In the prototype / small quantity stages of a product, PCB assemblies are usually in an on-going development process that requires the ability to flexibly respond to revisions while still meeting strict performance and production scheduling requirements.  Through the utilization of our versatile electronic contract manufacturing services and PCB assembly capabilities, S and Y Industries has developed cost-effective processes to meet the precision demands of advanced electronic prototype and small quantity runs.
Optimized for Manufacturability Through Precision Pre-Production Services
We also realize the need to provide our customers with a smooth transition from prototype/pre-production to full production.  With substantial investments in both equipment and personnel, S and Y has proven its ability to assist customers moving up to mid-volume manufacturing production (tens of thousands of assemblies).
Streamlined for Cost, Quality and Consistency Through Automated PCB Assembly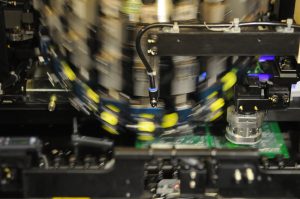 Our advanced PCB assembly equipment includes the industry's latest automated technology. Our cutting-edge production tools combined with the unparalleled craftsmanship of our employees enable S and Y Industries to offer cost-effective manufacturing services with ultra-quick turnaround. Simultaneously, our precision automation processes guarantee product quality and consistency in accordance with the latest ISO 9001:2015 certification standards.
Some of the highlights of our automated PCB equipment include multiple Europlacer iineo+ II SMT pick-and-place machines, as well as laser-guided Europlacer EP700 screen printers that feature closed-loop print head control combined with multi-directional circuit board clamping. Our PCB assembly line also utilizes integrated 3D-printing technology for electronic prototype enclosures, housings and other custom plastic components.
Your Single-Source Contract Manufacturer for PCB Prototype Solutions
S and Y Industries has manufactured quality electronic assemblies for over 35 years, specializing in custom prototyping and low- to mid-volume production solutions.  We have achieved this through a continued focus on the needs of our customers, and a continuous improvement strategy that has allowed us to identify new customers and opportunities. As a result, we have developed a diverse customer base and a highly differentiated service offering that enables us to continue to grow and expand within the industry.