Our Services
Printed Circuit Board Assembly
PCB Assembly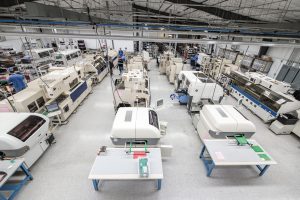 Printed Circuit Board Assembly (PCBA) is a process requiring both creative manufacturing concepts and productive technology.  At S and Y Industries, our PCBA process has been designed to accommodate all types of printed circuit boards, whether they are small, large, single-sided, double-sided, multi-layered, thin, thick, or requiring mixed technology.  We know that a successful PCBA requires precise attention to detail and a deep understanding of how your assembly needs to function.
SMT and THRU-HOLE Assembly
Surface Mount Technology (SMT) and Thru-Hole assembly is the forte of our business at S and Y Industries.  By utilizing our state-of-the-art equipment and processes, we are a recognized leader in the Electronic Manufacturing Services industry.  Once the board assembly has gone thru the assembly process, each one of them will go through our strict inspection and testing phase (no spot checks).  The end result is an PCB assembly that has been manufactured according to the requirements and standards that our customers expect.
Prototype / Small Quantities to Low-Mid Volume Production (tens of thousands)
In the prototype / small quantity stages of a product, PCB assemblies are usually in an on-going development stage that requires the ability to respond to revisions while still meeting performance and scheduling requirements.  Through the utilization of our service and assembly skills, S and Y Industries has attained the status as a recognized leader in prototype and small quantity runs.
We recognize the need to provide our customers with an easy transition from prototype to pre-production to full production.  With substantial investments in both equipment and personnel, S and Y has a proven track record in their ability to assist customers moving up to mid-volume manufacturing production (tens of thousands of assemblies).
S and Y Industries has been manufacturing high quality electronic assemblies with low to mid-volume production sizes for nearly 30 years.  Our focus on these business opportunities has fostered the development of highly differentiated services that meet the unique requirements of customers with low to mid-volume needs.  By focusing on these type of opportunities, it allows us to provide adaptive and swift assembly services.